Become a Home Stager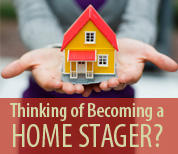 Were you born to be a home stager?
Check the boxes beside the statements below to see how many describe you:
| | |
| --- | --- |
| | I often rearrange my own house and crave new decorating projects. |
| | I'm addicted to HGTV and decorating magazines. |
| | I love visiting open houses and often wonder "what were they thinking?" when I see how the seller is showing their home. |
| | I get bored doing the same thing every day. |
| | Friends and family often ask for my decorating and color advice. I've happily given it for free, just because I love decorating and enjoy using my talents to help others. |
| | My own houses sell faster and for more money than others in my area. |
| | I'm frequently told I have great taste. |
| | Whenever I've moved, my own real estate agents ask me "who staged your house?" My answer, "I did!" |
If you answered YES to at least 5 of these statements, you fit the profile of the more than 4000 Staging Diva students we currently have all over the world.
Home staging is a great career if you have a natural talent for decorating. Contrary to what some companies will try and tell you for their own profit-making reasons, home staging is a completely unregulated field with no official credentials or certification.
You can call yourself a home stager right now, print up some business cards and start your business today.
That doesn't mean you'll make any money, especially if you don't know how to run a successful home staging business.
The Staging Diva Home Staging Business Training Program was created in late 2004 by Debra Gould, an internationally recognized and already successful home staging expert.
Rather than create another home staging program that would teach students about color wheels or have them practice how to rearrange a room with a group of fellow students, Gould recognized that the missing element in home staging courses was a program that would teach creative people how to actually make money in their business. She knew this critical element was missing from other programs because for two full years she'd been hearing from struggling home stagers, many of whom had taken prior staging training, but still didn't understand how to grow a staging business.
Since home stagers weren't making any money, all they had were decorating hobbies not businesses!
Although she's been an entrepreneur since 1989, Debra Gould started her
home staging business Six Elements Inc.
in 2002.
Since then a multitude of home staging courses have been created— many by individuals who have no personal experience running a successful home staging business.  Gould has been teaching home stagers how to make a living doing what they love since January of 2005, you can read many of her
students' comments about the Staging Diva program here
.
She continues to operate her own home staging business which keeps her current with what's happening in the real world of being a home stager. Debra Gould is also the author of
four home staging guides
, a monthly newsletter
Staging Diva Dispatch
and the widely-read
Home Staging Business Report
.
Why home staging is a great business to run from home
Home staging can be a very lucrative business when you know what you're doing.
It's a great way to use your creative talents to make a living while helping people at the same time. Being a home stager also offers tremendous flexibility so you can start your business while you have a full time job, or do it on the side while your kids are in school.
What also makes home staging especially appealing is that you don't need to invest a bunch of money to get started because you don't need your own inventory or a storefront!

Learn more about home staging courses to teach you how to start and grow a profitable home staging business
Make sure you know what you're getting before buying training
If you want to become a home stager and you are thinking of taking home staging courses, it's important to do your research before investing in training and make sure you're learning from someone who knows what they're talking about (and not just someone trying to make a fast buck).
A track record in the home staging industry of providing quality information is a leading indicator of someone's credibility. If they have demonstrated years of commitment to educating both home sellers and aspiring home stagers, the chances are better that you'll be learning from someone with solid information to share.

Here are 15 questions you should ask before investing in home staging training.