How We Work Staging Your Home
If I decide to hire Six Elements to stage my home, then what happens?
Once you decide to hire Six Elements for staging your home, the next step is a 2 to 4 hour Staging by Design™ consultation in your home.
This initial consultation is both an information and working session.
Some of your rooms will be transformed during this initial meeting. You choose how much of the remaining work you want to do on your own based on the step by step list you'll get from us, or how much you want to leave to the professionals.
For example, to keep your costs down, you might choose to rearrange your furniture yourself based on our recommendations. Or, if you have less time and a higher budget, you might decide you want Six Elements to take care of everything needed to stage your home on your behalf. It's completely up to you!
At the end of your first meeting with Six Elements, you will have a very specific, and prioritized, action plan of everything that needs to be done. Equally importantly, you'll have less anxiety about getting your home ready to sell because you'll feel like you've got the process under control.
If items need to be rented or purchased to finish your home, you will get a planning budget at this first meeting.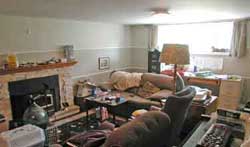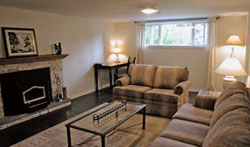 New wall color, drapes and rental furniture provided by Six Elements Inc. create a pleasant family room in what was previously a depressing and cluttered basement. We only needed to visit this home twice to complete the entire project. On the first visit the client learned what she needed to get rid of and the colors to have painted. In the second visit the new items were delivered and arranged. The home was showing-ready at the conclusion of this second visit.
Too busy to shop?
With your approval to the budget identified in the first meeting, the Six Elements team will source all the items and be there to put them in place— right down to floral arrangements, hanging art and placing accessories.
We will generally only need to visit your house twice.

The first Staging by Design™ consultation establishes the plan (or gives you the to do list to complete the work yourself) and the second meeting (if needed) is when items are moved in and all the final staging takes place.
If you need furniture or clutter storage, painting or repairs, we have suppliers who give Six Elements clients priority service. This is critical when you have little time before your house hits the market.
From room by room makeovers to organizing your home to be seen at its best—Six Elements services are tailored to your budget, experience and comfort level.
The guiding principle is always determining which efforts will make the most significant difference in the actual sale of your home. With the right home staging or house fluffing, even a modest bathroom can be transformed in a weekend!
Done right, home staging or house fluffing provides an amazing return on investment — helping you sell your home more quickly and for top dollar. Our clients have earned anywhere from $10,000 to $100,000 more for their homes— often in a matter of days.
When to hire a stager
The best time to stage your home is before you put it on the market, rather than after it's become a stale real estate listing and your real estate agent is pressuring you to drop your listing price. However, we've worked with clients in both situations.
If your home isn't on the market yet, it's up to you whether you want to hire us before or after you find your real estate agent.
It's also worth noting that three of our home staging clients decided not to put their homes on the market after they saw the transformation! A considerable savings when you consider the full cost of selling, buying and moving! Others had to list because they had already purchased their new home.
There's a distinctly bittersweet moment when the current home is staged and the homeowner suddenly realizes they could have always been living so well, and that they might not have decided to sell if they'd realized this sooner.
An increasing number of clients contact us for advice up to 5 years before they are planning to move so that they can get maximum enjoyment out of their home in the interim and plan for any repairs or minor renovations that might be worth doing before selling in the future.

Learn more about our interior redesign services and color consulting services.
Many clients find that by staging their home before their agent even sees it, they get a more desirable pricing strategy established. Other clients have agents who are savvy enough to revisit their initial listing price estimate once they see the staging complete. So there's no magic answer about whether it's okay for your real estate agent to see your home before staging.
For one client who was selling a townhouse in the Yonge and Eglinton area, the agent initially pegged the ideal listing price as $749,000. After staging, she recommended listing at $799,000. The home actually sold for $820,000 with multiple offers!
In other words, they made $71,000 on a $5,000 investment in staging.
Curious about the full story? Watch the TV news segment this Six Elements staging success story was subsequently featured on.
A professional home stager will identify when less expensive solutions will make the difference needed to sell your home
Some real estate agents may try to pressure you into making more expensive cosmetic changes before listing your house. For example, you might be told to put in new bathroom tiles. This isn't always necessary.
With the right paint and other updates, even a dated bathroom can sometimes look "good enough" to sell. It won't look renovated, but the trick is to have it look good enough that potential buyers don't feel they have to rip it out immediately and therefore deduct their estimate of that cost from the offer they'll make to you.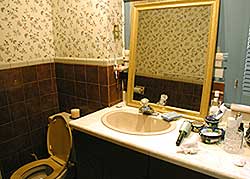 This client was under immense pressure from her real estate agent to re-tile the bathroom and put in new fixtures. Debra insisted that an acceptable alternative could be accomplished with paint, mirror, towels and a new toilet seat.

Check out our client testimonials on the right side of this page.


This site is filled with before and after photos of our work. Check out any of the blog post categories listed at right. You'll love this kitchen makeover story!
Contact Debra today and find out how we can help you too, what have you got to lose?
World-wide Home Staging Services
Home staging expert Debra Gould can still help you personally by phone working from photos you submit for review. Learn more about this virtual staging service.

You may also want to visit the Staging Diva Directory of Home Stagers!
Contact Debra Gould today to put your pre-listing fears to rest and start getting your home ready to show.