Why Home Staging Works
When it comes to buying real estate, house hunters imagine they can look past ugly decor or empty rooms and see "potential", but they rarely can!
That's why successful builders use Model Homes and Model Suites to sell their projects. They make it easy for a potential buyer to imagine how they will live in the property, they suggest the lifestyle that the buyer will aspire to.
Why home staging or house fluffing will help get you top dollar when you sell your home
Savvy home sellers realize that the same principals that work when showing a model home apply in the resale market and turn to Professional Home Stagers or House Fluffers to ensure they sell quickly and for top dollar.
Real estate buyers start house hunting with a logical list of criteria, but the home they actually buy is chosen largely for emotional reasons (unless of course they are buying an investment property that they have no intention of living in).
The principal aim in a house fluffing or home staging project is to allow potential buyers to walk into the house and have that "this is it, this is home" feeling.
Once a potential buyer can say, "I love it," they are willing to look past some of the criteria they had on their "must have in my next house list" before they walked in the door. That's why it is critical to pay attention to even the smallest detail when staging a home to sell.
Little things like over crowded rooms, personal memorabilia, dripping taps or doors that stick, all help the buyer emotionally disengage from the house. The annoyances or problems they will have to deal with later build up in their minds, and their thoughts turn to the next listing appointment they have with their agent as they mentally tick your house off their list of possibilities.
To sell your home fast, for top dollar, you want buyers to lose their hearts.
Falling in love with your home is what motivates someone to actually make an offer instead of just continuing their search for the perfect property. You want them to worry that if they don't make a decision on your house, someone else will. Then the competition doesn't stand a chance!
What will your "listing" look like online?
Another often overlooked aspect of why home staging works is that most potential buyers search online before ever contacting a real estate agent.
Studies have shown that 90% of buyers in Canada and 70% in the US look for their next dream home on the Internet. Your listing photos need to captivate them enough to want to take the trouble of seeing your house in person.
Otherwise, you're just another piece of real estate competing with hundreds of other listings in your area and price range.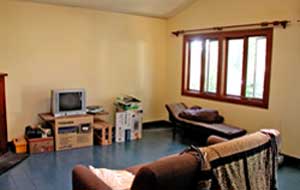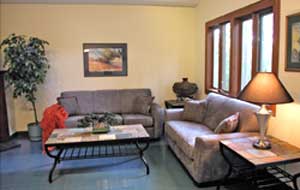 Once the tenant left this house, Debra Gould and her team repainted the room and added new furniture, art and accessories. If you were house hunting online, which of these family rooms would make you more inclined to want to see this house in person?
Not all home staging projects require new furniture. Where possible, Six Elements will work with what you have first— often in new ways as seen below.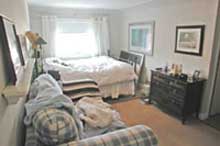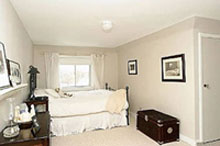 This is very typical of what can be done as part of a Home Staging Consultation. The bulky couch was removed and the remaining furniture and artwork were rearranged to create a more open and inviting bedroom.

Learn more about our in-home home staging services.


Learn more about hiring a home stager.
Afraid to spend hundreds to save tens of thousands of dollars?
Some home sellers worry about spending money on a house they're selling and are tempted to show it "as is". This is actually a very costly decision, because while you're not putting money out before the sale, unless your home shows impeccably, you are going to take longer to sell or get a lower offer.
If a house doesn't sell within those first critical weeks when one hopes for lots of activity, interest and multiple offers, most agents recommend a price "adjustment" of at least $5,000. This is money right out of your pocket!
It is much more preferable to stage or fluff your home right from Day 1, and never go down the "New Price!" road.
Done right, home staging / house fluffing provides an excellent return on investment — helping you sell your home more quickly and for top dollar.
Forget weeks or months of endless and inconvenient showings, and having your life on hold while you wonder when and if you'll sell and for how much. When you show your house well from the beginning, you're not trying to undo bad first impressions. You are capturing the interest of potential buyers and real estate agents when you are a new listing. That's a much stronger position than trying to play catch up after your house has been sitting on the market for sometime and everyone else has mentally moved on to the newer listings.
Even with the best of intentions you can get bogged down
There are many things you can do on your own to get your house ready to sell. For example, getting rid of excess clutter. However, this is often challenging, especially if you have limited time, you and your spouse can't decide what to keep, or you're just plain too emotionally attached to all your stuff to realize how cluttered it will look to strangers.
Home staging clients often find that the home stager gets them unstuck by providing very specific instructions on what to keep, what to put in off-site storage, and what's best to donate or toss.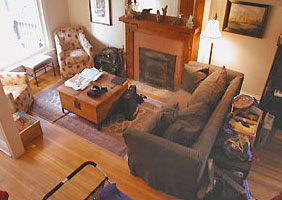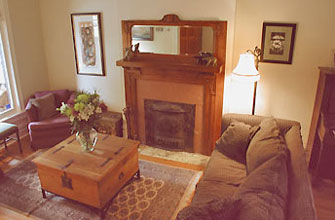 Removing clutter and mismatched furniture were a big help in this living room. Small details like flowers and rearranging art can also make a difference.

CNN Money interviewed Toronto-based home staging expert Debra Gould on how Home Staging, House Fluffing, or Real Estate Merchandising as it's also called, is a great strategy in a slowing real estate market.
There are plenty of before and after shots of work by Six Elements throughout this site to give you a better feeling for the difference home staging can make. You are also welcome to look at our portfolio which is organized by room through various posts on our blog. Scroll back up and look under "Categories" on the right sidebar of this page.

Wondering what happens when you call a professional Home Stager?
Get help anywhere in North America
If you're outside the Toronto area, home staging expert Debra Gould can still help you personally by phone working from photos you submit for review. Learn more about this virtual staging service. You many also be interested in the Staging Diva Directory of Home Stagers.

Learn more about our home staging services.


Learn more about hiring a home stager.
Staging Diva Training

We offer home staging courses for those wanting to start their own home staging, or house fluffing business.