Home Staging / House Fluffing
Referred to as "the dream weavers of the real estate world" (Forbes, 2002), "House Fluffers" can take a home and turn it into another house entirely— often in a matter of days!
Decorating your house to sell, also called Home Staging or House Fluffing, will help you sell faster and get more money for your home.
TV shows like "House Doctor," "Sell this House," "Designed to Sell," and "Buy Me!" increase awareness and demand for house fluffing or home staging services. With more and more staged homes on the market, the ones that aren't staged look even worse by comparison.
A real estate staging expert will transform your home into the property that will motivate buyers to make an offer. This is especially important when your home is competing with hundreds of others on the market in your price range.
"If you're looking to score on the real estate market, your best investment may not be a house or a condo, but an hour with Debra Gould," says Money Sense Magazine.
Our Home Staging by Design™ process works in both "buyers" and "sellers" markets.
CNN Money interviewed Home Staging expert Debra Gould on how Home Staging, or Real Estate Merchandising as it's also called, is a great strategy in a slowing real estate market.
In a buyers market the available listings exceed demand
Higher inventory of homes means that houses for sale tend to sit for longer periods— house hunters can afford to take their time and be more demanding about what they buy.
When buyers have time and selection on their side, they know they are in control of the situation and can be very picky. The only way to motivate them to take action and make an offer now is to make the home so desirable that they don't want to risk losing it.
Obviously, the homes that show the best will sell faster and for more money.
It's easy to see that when there are too many homes on the market the staged home will sell faster than competitors that don't show as well. Buyers make the buying decision when they make an emotional connection with a house. Why not make that easier by romancing them!
In a sellers market, more buyers are chasing fewer available homes
When the number of listings is tight, it's a seller's market. Buyers can't afford to take their time making a decision because many homes are selling fast, often with multiple offers. There's a sense of urgency because the buyer knows if they don't make a quick decision their "dream house" will be snapped up by someone else.
With proper home staging or house fluffing, these multiple offers can be driven to sometimes ridiculous levels because of how many buyers are competing with each other for a single property.
Real estate agents naturally feed this frenzy by holding offers for a certain date— not unlike the downtown nightclub that makes sure there's a long line up outside even if the club isn't full.
Take the case of a house in Toronto in 2003 that was listed appropriately at $599,900. In 5 days when the agent was willing to accept offers, they had 10 bids and the final price was driven up to $725,500, proving that while people may shop with logic, they buy on emotion. This would not have happened in a house that hadn't been home staged, or decorated to sell. Such examples continue to play out in many neighborhoods in Toronto after a brief dip in the market for part of 2009 in reaction to what was happening in the US.
It's worth noting that even in a hot real estate market, not everything sells quickly.

There are always those homes that sit on the real estate market for months on end because they don't show well and/or they are priced inappropriately. At some point buyers and agents conclude there is something wrong with the house and it is forgotten. It's important to capture buyer's imagination from day one when the house hits the market.
After decorating and flipping six of her own homes at great profit (in 4 cities in 9 years), Six Elements president Debra Gould— also known as The Staging Diva®— created the Home Staging by Design™ process to help clients benefit from her experience in decorating a house to sell quickly and for top dollar.
What's especially intriguing are the possibilities that can open up in your life when you have a sudden cash windfall from selling your home for way more than you imagined. Or consider the freedom that comes with not being saddled with a non-selling home for endless months.
You could put the money into the next bigger house, but some clients use it instead to take time off work and try something new.
When Debra Gould sold her second home she was able to take a one year sabbatical and live an artist life in Salt Spring Island. Buying, staging and selling 3 more homes, she was able to finance moves to other cities of interest after her sabbatical.
One of Gould's staging clients was able to sell her mother's condo that had sat on the market for 9 months without a single offer. Gould spent two hours rearranging all the contents and the next person to see it bought it! This was a great relief to the client whose mother had already died in a nursing home during this period. Another client called to say that for the first time she's mortgage free because she got $100,000 more for her home than expected.
An understanding of the target market for a home, a flair for design and knowing why people buy is critical to getting the home staging job done right.
Debra Gould is the only Professional Home Stager or House Fluffer with an MBA and 25 years experience in marketing, project management and client service— all tools necessary to decorating a house to sell quickly and for top dollar.
Within Gould's first two years back in Toronto, she staged $25,000,000 worth of homes for sale in the Beach, Cabbagetown, Leaside, Mississauga, East York, North York, Etobicoke, The Kingsway, Riverdale and Rosedale, and appeared regularly in print and on radio and TV.
Gould has been staging clients' homes since late 2002 and has built up an international reputation as a home staging expert, having staged hundreds of homes ranging in price from $170,000 to $1.7 million in addition to training over 30,000 home stagers worldwide. She is also the author of four home staging guides.
Bottom line… when it's time to put what is likely your biggest financial investment on the real estate market, you want to do it right. The Staging By Design™ process created by Debra Gould for her company Six Elements Inc. can make a huge difference in how much you sell your home for and how long it takes to sell.
With a wide range of suppliers, Six Elements will source the right furniture and accessories for your particular home.
Many home stagers keep their own inventory which means they may have to use what they have on hand whether it's appropriate for your specific house or not.

The end result of their staging efforts is limited by their limited inventory.
Instead, Six Elements sources from a variety of suppliers which means you get the right look for your particular home and for the target market for your particular home.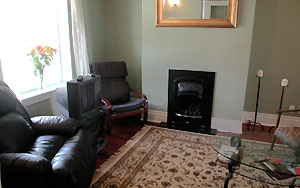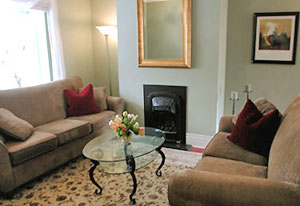 Mismatched furniture was replaced with a couch, love seat and accessories sourced by Six Elements. Some of the client's items were mixed in with the rentals to keep costs down. The new look is more consistent with the target market and price point of the home.
Check out additional examples of our work on any page in this site and in the Portfolio section. Done right, home staging / house fluffing provides an excellent return on investment — helping you sell your home more quickly and for more money.

When you're ready to learn more about how Six Elements can help you decorate your house to sell, contact us.
Tempted to leave a newly renovated room/home empty?
If you've done the expensive and time-consuming job of renovating, don't decide to save money when it comes to furnishings!
It's relatively inexpensive to rent anything you need, and these finishing touches help ensure you make the profit you deserve for all those costly renovations. We have tons of before and after photos throughout this site to help you see the difference home staging can make!

Learn more about why staging empty rooms or even an entire house is important.
Home Staging as a tax deduction
In the United States, consultation fees for Home Staging may be tax deductible as an expense in preparing your home for sale in many cases. Check with your CPA or tax expert to determine if you qualify.
Debra Gould's Staging Expertise is Available To You No Matter Where You Live
Through her personal Home Staging Coaching Service Debra Gould offers advice by phone and email to clients all over the US and Canada.
"Virtual Staging," as this is also called, is an excellent way to have your questions answered by a home staging pro as you need help. It's also less expensive than an in-home consultation. If you want to do most of the work yourself, and your home is not vacant, this is a good option.

Learn more about Virtual Staging.

You may also want to visit the Staging Diva Directory of Home Stagers to find a home stager in your area.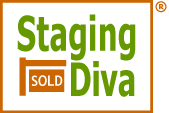 Thinking of starting your own Home Staging / House Fluffing business?
The creator of the Staging Diva Home Staging Business Training Program, Debra Gould has trained thousands of home stagers to start and grow their own businesses.
Check out our FREE GIFTS for home stagers here.