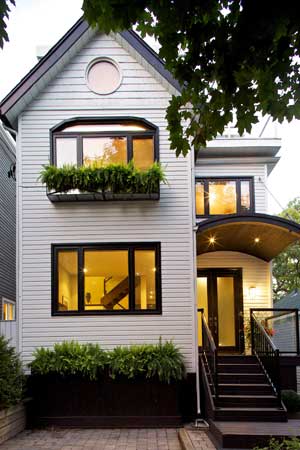 Real estate photography quality has never been more critical. I'm dismayed when I see real estate listing photos that look like they've been shot from a moving car, or when the photos show a home at its least flattering angle.
As a home seller you need to insist that your real estate agent use quality photos to market your property. As a real estate agent, you need to consider whether you have the time, equipment, and/or talent to take the best shots. Here's why:
In the US 70% of home buyers search for properties online before calling a real estate agent to discuss properties they want to visit. In Canada, that number is as high as 90%. This means that quality photos are key when promoting a real estate listing.
Whether you are working with a real estate agent or trying to sell your house on your own, make sure you are always showing your real estate property in the best light.

For the exterior listing photo, rather than the usual daytime image, consider how much more interesting the home might look when shot at dusk with the interior lights on. This is a home I decorated as seen in this photo by Toronto real estate photographer Dan Chan. By shooting the house at dusk, it's possible to communicate more of an idea of the home's interior even from a single exterior photograph. This makes the real estate listing much more enticing to potential home buyers when seen on MLS or on a FSBO site.
I invite you to share your comments and ideas here about real estate photography.
Debra Gould, The Staging Diva®
President, Six Elements Inc. Home Staging
Internationally recognized home staging expert Debra Gould, creator of the Staging Diva Home Staging Business Training Program, has staged millions of dollars worth of real estate, including seven of her own homes. She is president of home staging firm Six Elements Inc. and has trained over 4000 home stagers to start and grow their own businesses. Debra is the author of four home staging guides and offers a Directory of Home Stagers to help homeowners and real estate agents locate home stagers who will decorate homes to sell quickly and for top dollar.