House Hunting – A Bit Like Speed Dating
House hunting is a bit like "speed dating". You may have heard of this dating craze, whereby singles meet 20 or more potential mates in one evening by having 5 minute dates with each of them. The chemistry is there or it isn't.
Many of us look for a mate with a logical list of our personal criteria. But when the chemistry and emotional connection are right, who remembers logic? We follow our hearts.
If you've gone house hunting, you can see the similarities.
Your agent will take you to six or eight houses in a single afternoon. Within minutes, you'll reject most and possibly choose one property to go back to for a second look.
Home Staging or House Fluffing is all about creating the best first impression— paving the way for potential buyers to fall in love.
Potential buyers start to form an opinion of your house before they even walk in your front door. It's important to maximize curb appeal, but then you must also carry that same attention to detail right through the rest of the house.
Whether you call it Home Staging or House Fluffing, remember your goal is to romance potential buyers… you want them to lose their hearts and say, "this is home, we have to have this house!"
The furnishings should also suit the target market of the home. If you're selling a high end home, it shouldn't look like students are tenants in all your rooms. Rent more appropriate furniture if necessary to project the right image. Six Elements works with a variety of suppliers and can source whatever is needed for your specific home.
"Many of my clients have the right 'stuff', there's just too much of it and many items can be better used in different rooms," says Professional Home Stager Debra Gould, also known as The Staging Diva.
"My role is to bring an objective eye to the project and look at every room in a new way. Often my clients are surprised by how much better their home works for them after I've been through it," she adds. "Three families even decided not to move once I was done!"
The Initial Consultation
If you're thinking of hiring Debra Gould to stage or fluff your home, contact us.
If you decide to proceed, the next step is a minimum two hour home staging consultation in your home. Many of the rooms will be transformed during this session plus you'll have a detailed and prioritized 'to do' list at the end of the meeting! You choose how much of the remaining work you want to do on your own and how much you want to leave to the professionals. Either way, you will have a very specific action plan and less anxiety about how it can all be accomplished.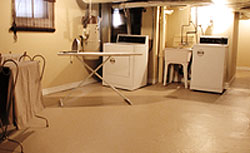 Look what is possible in two days with the help of the right color paint on the walls and floor, a storage locker and basic props. The key is not to look at the "before" situation and give up because you think there's no hope of getting to the "after" in the time available. This project by Six Elements was featured on a TV news show.
Debra Gould, also known as the Staging Diva, has helped 4,000 students worldwide start their own home staging businesses. Despite that, she's one of the few leaders in this field who will tell you upfront that there are no official credentials to be a Home Stager or House Fluffer.
When you hire a Home Stager or House Fluffer, you're trusting this person with the "merchandising" of your single biggest financial asset and how well they decorate your home to sell can mean tens of thousands of dollars in your pocket!
Be sure you are hiring someone with the experience needed to do the best job staging your home quickly and effectively.
The Most Important Rooms in Your Home
How your kitchen and bathrooms are perceived is critical to the selling price of your home. Even when there's no time or budget to renovate, there is still a lot you can do to improve these important rooms!
There are many before and after photos throughout this site to help you with ideas and for you to become comfortable with our work.
If you're not moving, why not live more comfortably now?
Many house fluffing clients are surprised by how much better their current homes can work for them. The transformation is bitter sweet because often they've already committed to moving only to find that they could have been more comfortable staying where they are with some work. So much is possible with the right eye and not a lot of money.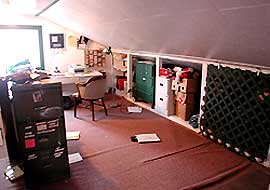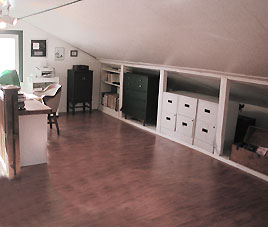 Why do people live this way until it's time to decorate to sell? Replacing worn carpet with wood laminate made a huge difference in this home office. Extra furniture and clutter were removed and replaced with order and calm.
While you might feel overwhelmed by all the work ahead of you to prepare your house for sale, a Professional Home Stager or House Fluffer will take it in stride.

Learn more about how we work with you when staging your home.
World-wide Home Staging Services
Debra Gould offers advice by phone and e-mail to clients all over North America working from photos you provide. You can have your specific questions answered while you get your house ready for sale. This service works especially well if your home is already furnished, it is not recommended for a vacant property.

Learn more about this Virtual Home Staging/House Fluffing Service.
Since we offer the Staging Diva Home Staging Business Training Program, we have a network of thousands of independent home stagers world wide.

Check out the Staging Diva Directory of Home Stagers!