Interior Redesign
Exciting solutions make your home work better for you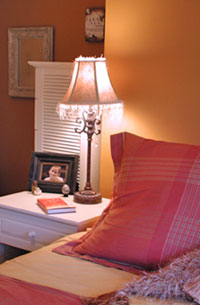 The philosophy behind our Rooms by Design™ Interior Redesign Service is to help you design the living space you really want, regardless of how large or small the budget.
The Six Elements Rooms by Design process will guide you to having a home that reflects your spirit and individuality. "After all, if we can't be our real selves in our own homes, how will we express ourselves in the outside world?" asks designer Debra Gould.
It's not about how much you spend on furnishings or renovations, it's about careful consideration of all of the items in your home. It's about letting go of things you don't like or find useful even when that means giving away something you've had for years.
"Instead of always going deeper in debt and trading up to bigger and more expensive homes, many of my clients are better served by looking for ways to make the current house work better for them," says Debra Gould, president of Six Elements Inc.
"Some home staging clients initially hired me to decorate their homes to sell, only to realize once I was done that they loved what they already had. A few families decided not to move after all," Gould adds.
We help transform your home by re-organizing your current furnishings (sometimes using your things in different ways) and perhaps improving the lighting and wall colors.
The Rooms by Design™ process also helps you let go of items you no longer need. Often an entire house is completely transformed just by these inexpensive changes!
Where cost effective, new finishes or furnishings are added for a completely new look that better meets the needs of your family.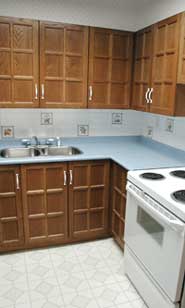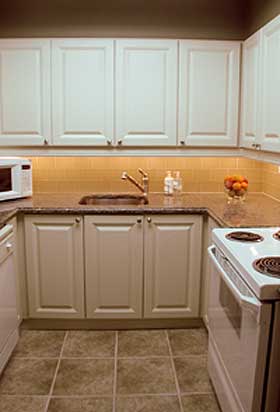 Debra Gould gave this condo kitchen a dramatic face lift at a fraction of the cost of a new kitchen! Transformed with new cabinet doors and hardware, ceramic, sink/taps and granite. To cut costs, existing cabinets and appliances remained.
How it works
The first step is to carefully evaluate what is working and what isn't in each room of your home. Next, you must be willing to take the important step of parting with items that no longer serve you.
Don't worry, we don't believe in throwing things out just for the sake of having something new. Quite the opposite in fact!

Anything you really like belongs in the redesigned space. But, if you've always hated it, never got around to doing something about it, or were afraid to give it away, that's a different story! You will be amazed at how liberating this process of letting go of things that no longer serve you can be!
"Taking something as simple as what's in our homes and changing it can be a process that begins to lead us to rediscover who we are. By letting what we really want into our own homes, we start to let what we really want into our lives," says Debra explaining a big part of her interest in home decor.
An initial two to three hour in-home Rooms by Design (interior redesign) consultation will guide you through this process, focusing on transforming a single room or your entire house— it's entirely up to you!
You will have enough information at the end of this first meeting to do all or most of the work yourself.
It is not necessary to hire Six Elements to do the whole project, unless you want to! We believe in empowering you to transform your home by giving you the right information and providing and organizing the creative solutions for you.
When you're ready to get started and have a home that inspires and comforts you at the end of the day, contact us. You'll get the DIY decorating ideas you need, or you can let Six Elements transform your home for you.
There are many photos on this site to give you a better idea of what can be achieved without the relatively high cost of starting from scratch. Color is often an important element in achieving a new look.