When it's time to put the house you are living in onto the real estate market, it becomes a product. Rather than suggesting all new furniture in a resale home, a good home stager will try and work with what you already have in new and better ways when staging your home.
Sometimes though, it's necessary to bring in rental furniture to add to what you already have, or to replace furniture that's not appropriate to the purpose of the room, or the target market of your home.
For example, I staged a million dollar home that had inexpensive Ikea furniture in the living room. I moved this down to the basement where it was more suited to a family room. Then I brought in rental furniture to stage the living room to be more in keeping with what the buyer of a million dollar property would expect.
Below is an example of combining what my client already owned with rental furniture that I brought in just before the house went on the real estate market.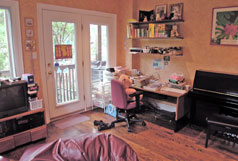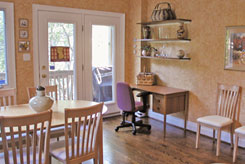 Clutter and unnecessary furniture, like the bean bag chair in the center of the room, were removed from the eating area/family room in this home and rental furniture was brought in by Six Elements to create a proper eating area.
Need help with your staging or decorating project?
With a minimum two hour consultation in your home, we will tell you everything that needs to be done in your house before you put it on the real estate market (room by room and outside too). Contact us to learn more or arrange an appointment.
> Read more about our color consulting, interior redesign and home staging services.
If you're outside the Toronto area, I can still help you personally by phone working from photos you email me. Learn more about this virtual staging service.

Home staging expert Debra Gould is president of Six Elements Inc. She has staged millions of dollars worth of real estate, including seven of her own homes. Debra has gained international recognition and has been featured in major media in the US and Canada including: HGTV, CNN Money, CBC National News, CBS Radio, GlobalTV, CityTV, The Wall Street Journal, Woman's Day, Reader's Digest and more.